How TEM services save your company more money
Carolina Lobos
As technology expense management software and telecom expense management services have become more prevalent, many companies are now choosing to outsource this function. Why would they do that? It's simple: technology expense management can save a company substantially more money than if it were done in-house.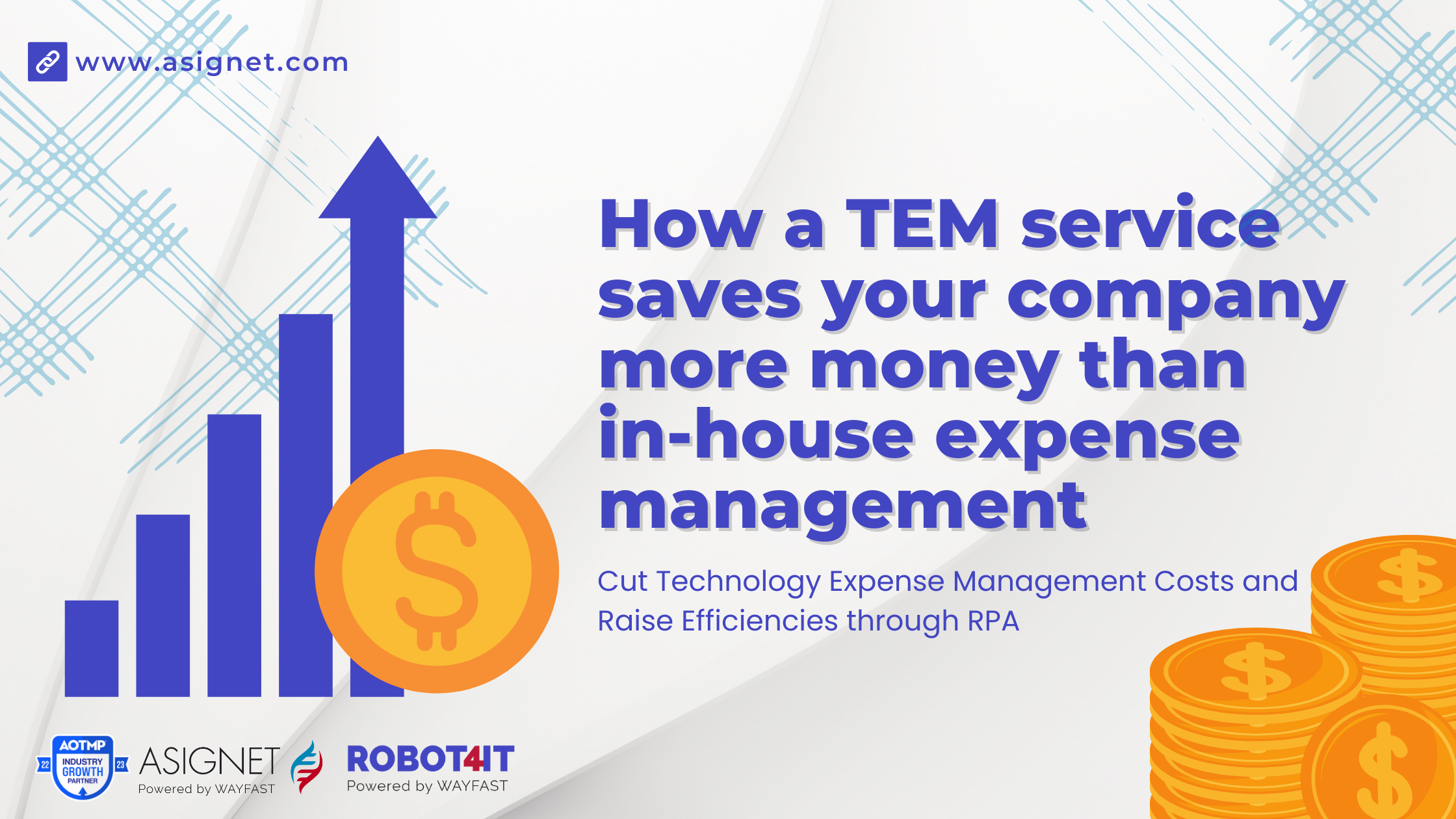 In this article, we will discuss how telecom expense management is changing as well as the benefits of outsourcing telecom expenses to an external service provider or telecom expense management managed solution. We will also discuss some of the risks associated with managing telecom expenses internally and provide tips for making sure you choose a reliable telecom expense management solution.
Telecom Expense Management (TEM) manages and tracks the various wireless, voice, and data services to understand total telecom costs. This term is often applied to corporate customers who have significant telecommunications services as part of their business processes.
In telecom expense management, telecom expenses are broken into two categories: telecom costs and telecom support.
Telecom costs include the services you use (voice, data, and wireless), while telecom support refers to all of your telephone equipment such as handsets or PBX devices.
When it comes down to choosing a telecom expense management service provider, there is no one-size-fits-all solution; each business will have different needs depending on the size and the industry sector they operate in. For example, if your company works with call centers, having access to that information can be incredibly helpful for managing the cost optimization process and increasing productivity by providing better customer service levels. This kind of insight might not be necessary for other industries like retail businesses, although tracking telecom expenses is still essential to make sure telecom costs remain low.
If you are considering implementing telecom expense management software, there are a few key factors that you should consider before making the final decision:
First of all, does your current telecom provider offer this as part of its service or will it need to be outsourced? If so, how much would those services cost on an annual basis? Are there any hidden fees associated with outsourcing telecom expense management internally, such as the contract termination fee if you decide later that you want to switch providers? These can add up quickly, and these details should be outlined in writing whenever possible. Ensure that everything is transparent from start to finish when it is time to sign contracts since some companies may try to upsell telecom services that you don't necessarily need.
When looking at telecom expense management solutions, the provider must have experience in your industry or business sector since this can affect how they manage telecom costs and provide insight into where there are opportunities for cost savings. For example, if you work with call centers, then a telecom expense management service would help reduce telecom expenses by providing analytics on calls per minute and total minutes per month, which can save thousands of dollars per year depending on your usage levels.
80% of telecom invoices have billing errors. The typical company spends more than 20% on the telecom environment.
The most crucial factor is understanding who will pay for any additional charges associated with outsourcing telecom expense management internally? Is there an internal department within your company responsible for managing telecommunications, or do you expect telecom expense management to be the responsibility of each department? If this is not outlined in your telecom expense management contract, you may encounter a billing dispute due to unexpected charges in your next telecom invoice. This should be clearly stated within the telecom expense management service agreement so there are no surprises down the line.
The benefits of telecom expense managed services outweigh any risks associated with outsourcing these processes internally, which means that most companies would benefit from managing telecom expenses externally rather than attempting it themselves. Outsourcing telecom expenses can save more money than doing it in-house since costs will typically decrease over time once an effective strategy has been implemented, whether that's through better negotiation between carriers or by utilizing cloud-based telephony systems like Google Voice and Skype.
TEM service or telecom expense vendors can help boost employee productivity and lower unnecessary costs which is why so many businesses are outsourcing telecom expenses today.
Telecom expense management software can help reduce telecom costs through better negotiation rates and effective usage analysis. It also provides employees with access to a range of instant reports, which increases productivity. Employees don't have to wait for invoices or spend hours digging up the necessary information to get the job done since everything is at their fingertips whenever they need it.
TEM service providers take this even one step further by managing telecom expenses on behalf of businesses to avoid errors when sending out bills each month. This reduces human error and increases speed because some vendors like Asignet use RPA and AI parsers to gather all the telecom invoice information instead of doing manual data entry work every single time an invoice comes in from carriers such as AT&T or Verizon.
By working with a good Telecom Expense Management company, you can automate the processing and payment of all invoices, including uploading, chargeback allocation, approval for payment, audit function with accounts payable, and bill payment business operations, and support integration of external financial systems.
The Telecom Expense Management service or Telecom Expense Software can handle all of this and more, resulting in a significant increase in productivity. For smaller companies with only one IT employee, telecom expense management may be the difference between completing projects on time and having to push deadlines back due to a lack of resources.
In conclusion, outsourcing telecom expenses is better than managing them internally because it saves money and increases productivity which means that there are tangible benefits for both employees and business owners alike. When choosing a telecom expense provider, look at their services, such as billing support or training, since some providers will charge extra for certain features. In contrast, others do not have any hidden costs associated with their
products/services, so you know exactly how much your monthly bill will cost.
Contact us today for more information about how we can help your organization save money and increase efficiency in managing your telecom expenses.